There's no denying that this 1940s brick home in Brighton Beach needs some work, but for those who can see its potential charm, it has a striking array of vintage touches, including seashell kitchen cabinets and colorful bathrooms.
It is located at 47 Brighton 11th Street, just a few minutes' walk from Brighton Beach seafront and the Holocaust Memorial Park at the entrance to Sheepshead Bay.
It is part of a row of tapestry semi-detached houses with pointed gables, garages on the lower level and brick stairs to the owner's unit on the top floor. A certificate of occupancy shows that the house was completed in 1941.
Two kitchens with intact original tiles and cupboards, pink and blue retro bathtubs and the round arches and niches typical of this time are still preserved. The upstairs owner's unit has three bedrooms while the downstairs unit has two.
Both apartments have living rooms with wooden floors, alcoves with shelves and arched openings leading to a dining area. In the upper unit, the dining area has hardwood floors and another alcove, while in the unit below, the linoleum floor is in rough form. But the original built-in corner cupboards with scalloped edges are still in place.
Both kitchens have their original square white wall tiles with border tiles and triangular accent wall tiles finished in black in the upper unit and blue in the lower unit. They also have wall-mounted faucets, scalloped wooden cabinets, and some original hardware. The lower unit has a vintage stove.
Each apartment has a full bath with blue fixtures, built-in showers, and pink wall tiles with blue border tiles. The upper bath has lost its original sink and has a white pedestal replacement, while the lower bath has the original blue sink on chrome legs and an antique medicine cabinet above. This bathroom also appears to have its original floor, which repeats the color scheme with pink mosaic tiles and blue accents.
The upper level has an outside terrace at the front and a sun terrace at the back with steps down to the paved backyard. The latter has two small planting beds set amidst the concrete, as well as space for eating and some potted plants to brighten up the space. The built in garage for one car faces the front where there is also a short driveway.
Gregory Tsougranis of Keller Williams has the listing and the house is priced at $999,000. Is the question worth it?
[Listing: 47 Brighton 11th Street | Broker: Keller Williams] GMAP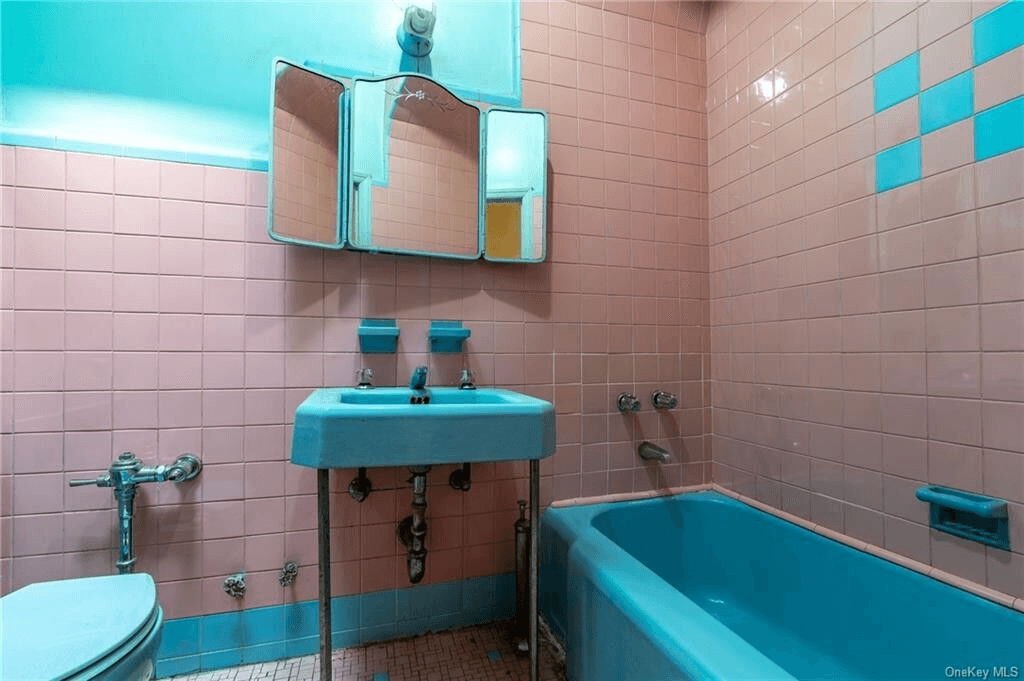 similar posts
Email [email protected] with any additional comments, questions, or tips. Keep following Brownstoner Twitter and Instagram, and like us on Facebook.