Brazilian aircraft manufacturer Embraer has partnered with US defense contractor L3Harris to offer the US Air Force (USAF) a special "tactical tanker" version of its KC-390 military jack.
The companies will "develop an Agile Tanker, a tactical airborne refueling option to meet the operational needs of the US Air Force and the refueling needs of joint forces, particularly for contested logistics environments," Embraer and L3Harris said Sept. 19.
The move is consistent with a USAF concept called Agile Combat Employment (ACE), which calls for the service to become more nimble in response to modern threats, the companies add.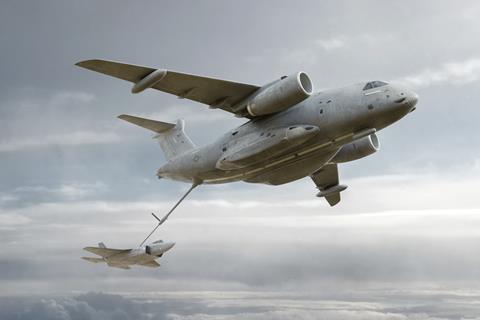 Embraer and L3Harris did not release a timeline for their project and did not immediately respond to a request for more information. The USAF also did not respond to a request for comment.
The companies are considering conducting final assembly of the aircraft in the United States, but are not giving details. Based in Melbourne, Fla., L3Harris would conduct "aircraft modernization and proselytization" at its modification center in Waco, Texas, it said.
Completion of this work in the US would ensure that the project meets the requirements set by the US government for sourcing US-made products.
Embraer already offers a tanker variant of its KC-390 medium-lift military aircraft powered by twin-blade International Aero Engine V2500 engines.
"Aircraft enhancements will complement the tanker's existing capabilities, which already include the ability to refuel aircraft with a variable speed drogue, receive fuel, and take off and land from short and improvised runways," the companies say.
"Among the improvements are the addition of advanced boom operations and mission systems to support agile base and sustainment for operations in contested areas," they add.
The Agile Tanker will also carry communications systems compatible with the Pentagon's "Joint All-Domain Command and Control" concept, which aims to significantly improve inter-branch communications.
Embraer and L3Harris say their aircraft will be perfectly suited to the USAF's broader ACE doctrine.
ACE is a service plan to counter threats from modern long-range missiles, which are increasingly capable of hitting bases that were beyond the range of previous missiles.
ACE urges the USAF to be prepared to move forces "to predetermined, dispersed locations" as needed in the event of threats, according to an August USAF Doctrine Note.
"US Air Force strategic planners have stated that an agile combat mission will require tank platforms optimized to support a disaggregated approach to air dominance," said Christopher Kubasik, chief executive of L3Harris.