General Atomics Aeronautical Systems (GA-ASI) and Kratos have highlighted advances in autonomous unmanned aircraft systems (UAS).
Kratos lists 17 different UAS capabilities it has validated since 2015, including a range of autonomous flight profiles, cooperative operations with other aircraft and UASs, and carriage and weapon deployment.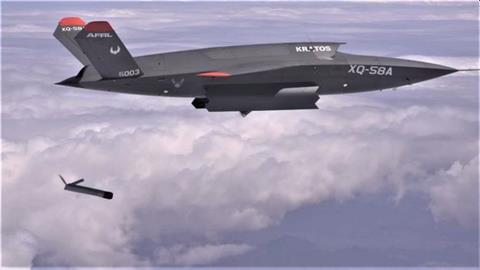 The company highlights that its aircraft are runway independent, which allows them to operate in high-threat scenarios. It advertises its range of UAVs as being able to offer both mass and affordability, as well as survivability through signature, speed and manoeuvrability.
"That [US Department of Defense] has consistently reported, particularly in recent months, that runway independence and the ability to operate from multiple non-large bases are critical to our military's successful operations in the most critical enemy threat scenarios," says Steve Fendly, President of Kratos Unmanned Systems Division.
"The Department of Defense has also consistently reported that large numbers or masses of CCAs (Collaborative Combat Aircraft) are the game changer for success in wargames and threat analysis."
GA-ASI says it flew a proprietary MQ-20A Avenger UAS with an artificially intelligent (AI) pilot on Sep 12.
"The Avenger's fully autonomous flight utilized an AI pilot for nearly 30 minutes as part of a live, virtual and constructive collaborative UAS," says GA-ASI.
"The flight was conducted as part of GA-ASI's continued commitment and investment in the development of advanced AI and machine learning autonomy for UAS."
The flight included the company's reinforcement learning architecture, which enables platforms to make decisions in challenging real-world scenarios. The work also included Lockheed Martin's TacIRST infrared search and tracking sensor. This created live tracks from opponents, which the MQ-20A could then dodge.
"The flight was a tremendous success and demonstrated a number of game-changing capabilities in the race to operationalize autonomy for collaborative fighter aircraft," said Michael Atwood, senior director of advanced programs at GA-ASI.
"It's exciting to see how AI can be used to advance how and where we fly unmanned systems as the complexity of the battlefield increases. The ability of our Chase and Avoid agent to dynamically update trajectory when threats are detected is the first step in building an ecosystem of collaborative autonomous fighter aircraft."