Doug Ford's Ontario government published its regulations on September 15, euphemistically titled the More Beds, Better Care Act (formerly Bill 7). The regulations are the details of legislation to create new powers to force elderly patients and those with chronic care needs out of hospitals and override their right to consent. The hammer the government is using to force patients out of hospital is a fee of $400 a day, or $2,800 a week.
According to the minister's statement yesterday, hospitals will "necessary"Waiting patients should be charged the exorbitant fees not only for long-term care, but also for home and outpatient care. Patients can be sent up to 45 miles from the Southern Ontario hospital. In the north, the limit is 150 km, but if there are no beds available within 150 km, they are allowed to take patients further afield, according to government documents.
Natalie Mehra, executive director of the Ontario Health Coalition, expressed her outrage at the plans in a livestreamed press conference.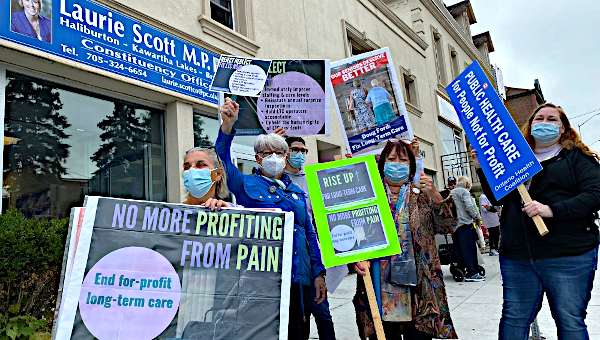 Important facts:
The main function of the new law is to give new powers to the following people:

Assess a patient without their consent
Share this patient's personal information with a number of healthcare providers (for and not-for-profit) without their consent
Fill out the applications for the patient without their consent
Admitting a patient to a nursing home without their consent, including a nursing home that is far away, has a poor nursing record, is not the patient's choice, does not meet their language needs, etc.

In the documents describing the government's changes, they have expanded the scope of the new law to also cover patients awaiting home, community and long-term care. They have not shrunk it, despite widespread public opposition. They expanded it. This can result in patients being transferred from the hospital to nursing homes, at home awaiting home care that may not materialize, or to other facilities or locations.
The government documents also make it clear that the 150 km limit in the north is not really a limit because if beds are not available they can push the patient to a more distant community. With no beds available (there are 38,000 people on the LTC waiting list) this will happen.
If a patient refuses, they will be billed $400 per day or $2,800 per week.
Fact checker:
Ontario has the fewest hospital beds of any Canadian province. Downsizing of Ontario hospitals is not "normal". It's extreme, even the most extreme in the country. Now patients – and especially the frail elderly and those with chronic care needs – are treated as if they are misusing resources. This is age-related and immoral. These patients have the same human rights as all patients. They do not "consume" resources, they need care. They have nowhere to go, not by their choice, but as a result of policy choices being pursued by the Ford administration not to rebuild our public hospital capacity.
Hospitals are not just "acute care" facilities. They have historically provided a range of care services including chronic care (complex continuous care), palliative care, rehabilitation beds and more. These services are just as important as acute care, and it is not in the public interest to cut back and routinely discount them.
Ontario has for years funded its hospitals at the lowest rate in Canada to force downsizing. (Virtually every cut in public hospitals is privatized.) Here is hospital funding by province as a percentage of province GDP and per person. The Ford administration continued to do so when it took office. Nothing has been done to restore the hospital's capacity to anything remotely reasonable.
There is a staffing crisis that parallels the hospital staffing crisis, in long-term care and in home care, where these patients are likely to be coerced. Despite repeated calls — with specific recommendations — to get the Ford government to take real action on the workforce crisis, the government has downplayed the situation, refusing to call it a crisis, trying to deflect attention, and ultimately making a slew of PR pronouncements held real action with very little. There are a significant number of measures the government could take to deal with the crisis, but it has chosen not to spend the money and is now instead violating the rights of mostly elderly patients to deal with the crisis they always have not tackle yet.
Not all so-called Alternate Levels of Care (ALC) wait for long-term care. In fact, the minority of ALC patients are awaiting long-term care. A significant block of ALC patients is waiting for hospital beds – complex continuous care (chronic care), rehab, mental health beds and others. A small number are awaiting home care. (Most patients awaiting home care are discharged home, where that care may or may not take place.)
Hospitals also provide long-term care beds, and have done so for decades. There are a significant number of closed hospitals and closed hospital beds throughout the province that still exist and could open if funded and staffed. In fact, public hospitals built four rapid long-term care facilities on hospital land last year. The decision not to address the issues by expanding services is a political choice – not a necessity – and it reflects the values ​​and priorities of the government and those behind the scenes working to create the new law and its regulations . These values ​​and priorities do not align with the values ​​and priorities of the majority of Ontar residents.
Any claim that cultural needs etc. are taken into account is nonsense. In general, cultural homes have longer waiting times than those that do not offer these services. Patients are forced into the only available beds, which are far away or where people often, for good reason, do not want to go.
Claiming that the forced moves are temporary and that patients will find their way to an LTC home of their choice is also highly manipulative. Crisis admissions from hospitals always have priority. The forced move is very likely to be the last move in the patient's life.
Across Canada and internationally, we have just seen the devastating impact of family and loved one isolation on long-term care residents during the pandemic. Countless older residents failed; they permanently lost their health condition; They suffered tremendously from depression, loneliness, despair, and inadequate care, and many died. We fear this is the consequence of this policy for the hundreds and ultimately thousands of elderly who will be subjected to this heinous coercion. •
This article was first published on the Ontario Health Coalition Website.
OHC Press Conference:
Advocates are reacting to the Ford government's new law that violates the rights of elderly hospital patients
The regulations of the new care law violate human rights and smack of grotesque age discrimination. That's why we held a press conference on September 15 to oppose plans to deprive patients in hospitals of their fundamental right to consent to healthcare. We don't have any of that.
A recording of the press conference can be viewed on Facebook (no account required).
The Ford government yesterday issued a statement on the provisions of Bill 7, which was passed in late August without public consultation. The new law, insincerely titled "More Beds, Better Care Act," gives hospitals new powers to assess patients waiting on long-term care beds in hospitals without their consent and to share their personal information with a range of companies without their consent Fill out an application and be placed in a nursing home without their consent.
The Health Secretary released details of planned regulations to be implemented from 21 September 2022, so there will not be a normal 30-60 day consultation period on the regulations. The government appears to have expanded the number of services patients may be waiting for. They plan to broaden the audience of this legislation to include people awaiting home care and other community care. They have announced plans to bill patients $400 a day if they don't leave the hospital somewhere they don't want to go, overriding their right to consent. They have announced plans to move people up to 70 km in southern Ontario and up to 150 km in northern Ontario. Very worryingly, not a single part of the Ford government's statement recognizes the patient's right to consent in any way. The minister made a number of false and incorrect statements, which will be pointed out in the press conference. •