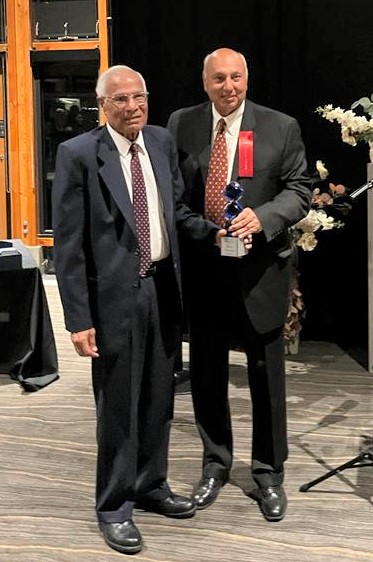 WHAT does an icon of the Indo-Canadian community do when he retires from a four-decade medical practice? for dr Gurdev Singh Gill of New Westminster there was no reclining in an armchair.
Gill, who was the first Indian-Canadian newly immigrated doctor to graduate from a University of Canada (UBC) in 1957, early in his retirement from medicine founded a local organization in 1974, initially focused on building good relationships among Canadians residing in India and Canadians concentrated the Canadian mainstream. From 1999 to the present, this organization has then focused specifically on raising funds to assist in the implementation of improvement projects for the ancestral villages of the Indo-Canadians, primarily in the Punjab.
The non-profit organization is called the Indo-Canadian Friendship Society of British Columbia (ICFSBC).
Received the Order of British Columbia in 1990, Gill has invested limitless time and energy over the years in demonstrating his leadership in his ethnic community. The 2nd Avenue Gurdwara and Ross Street Temple, both in Vancouver, and most recently No. 5 Road Gurdwara Nanak Niwas (India Cultural Center of Canada) in Richmond benefited from his vision and commitment to improvement and advancement; make a difference to meet the challenges in the South Asian/Sikh communities.
To date, the ICFSBC, led by President von Gill, has been a major force in providing some 27 rural villages in India with initiatives focused on hygienic living conditions, access to safe drinking water, sanitation systems, increased public health awareness and modernization of the focus on infrastructure.
"Doc," as his friends and admirers like to call him, drew on many fellow migrants to share their success in Canada by helping fund infrastructure improvements in and for their ancestral villages. The results of his actions to implement village improvements eventually attracted the attention and collaboration of the Punjab State Government and large Indian companies in the context of their Corporate Social Responsibility (CSR).
What Gill has accomplished through hard work combined with a determined "can-do" attitude has become a template for other nonprofits making a difference across the subcontinent. Like Teddy Roosevelt's historic "chicken in every pot" ambition, Gill has made a notable dent by pursuing the mantra: "A toilet in every village house!" With 600,000 villages in India, although his ambition has made remarkable strides, he still has one considerable way ahead.
Upon reaching his 90thth Celebrating his birthday last November and with an amazing legacy of 25 completed village improvement projects across the subcontinent, Gill recently passed the baton to former Federal Minister Herb Dhaliwal and remains active as ICFSBC Chair Emeritus
dr To honor Gill for his selfless service both to the Indo-Canadian community and to the many thousands of villagers in the states of Punjab and Haryana in India who have benefited from his tireless work, and in recognition of his considerable philanthropic contributions over the decades, the ICFSBC hosted a gala dinner both here in Canada and in his native country.
Approximately 200 people will gather at Burnaby's Riverway Clubhouse on September 15th to honor Gill and raise funds to help achieve the society's ongoing goals to which Doc has dedicated so long.
Speakers delivering tributes at the Riverway Clubhouse Dinner in Burnbay, attended by 200 people, included former BC Prime Minister and Federal Cabinet Minister Ujjal Dosanjh, former BC Provincial Cabinet Minister Moe Sihota and former Supreme Court Justice by BC, Wally Oppal.
Prime Minister John Horgan, BC Parliament Speaker Raj Chouhan, BC Opposition Leader Kevin Falcon and current Federal Minister for International Development Harjit Sajjan sent messages congratulating Gill on his active commitment to community service.
(information and photo provided)