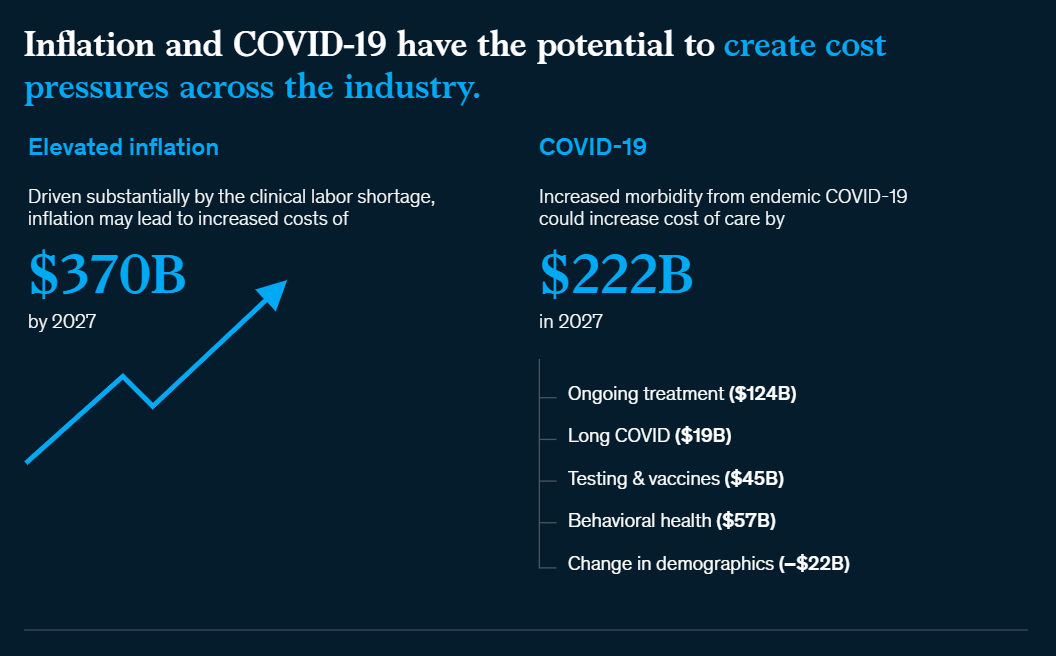 What you should know:
– The latest report from McKinsey & Company shows that inflation could lead to an additional $370 billion in health care bills above baseline by 2027, requiring government, employers and consumers to bear the cost.
– The piece reveals the impact of healthcare inflation over the next five years without immediate action, threatening affordability and access to care for consumers and posing significant risk to the profitability of providers, payers and other healthcare stakeholders.
Inflation trends and their impact on healthcare
According to McKinsey & Company's new report, the decade from 2010 to 2020 was a period of relative calm for the US healthcare industry, with national healthcare (NHE) spending increasing at predictable rates. Then the COVID-19 pandemic triggered a prolonged period of disruption, disease and loss that continues to slowly subside. L Labor shortages, inflation and endemic COVID-19 are challenging the industry as they threaten affordability and access to care for consumers and pose significant profitability risks for providers, payers and other healthcare stakeholders. McKinsey research shows that the combined impact of these forces could accelerate NHE growth by approximately $600 billion by 2027.
According to the report, healthcare leaders, particularly in the private sector, have an opportunity to step up and invest in innovation to improve healthcare. According to McKinsey analysis, implementing a set of well-known actions — in healthcare transformation, administrative simplification, clinical productivity, and technology enablement — could create a collective opportunity in excess of $1 trillion and potentially as high as $1.5 trillion create by 2027. However, to be fast enough to take advantage of this opportunity, healthcare leaders need to rethink how they approach organizational growth and transformation.
McKinsey's 15thth The annual healthcare conference, held in Chicago in July 2022, examined the current healthcare climate, the forces contributing to the coming storm, and the steps healthcare leaders can take to help them weather and thrive during these turbulent times be. The report organizes these insights and trends into three main themes, which are explained as follows:
1. New forces affecting the healthcare industry
The highest inflation rates since the 1970s, the growing likelihood of a recession and weak consumer sentiment are rocking the US economy – and the healthcare industry is not immune to its impact. Personnel expenses, which account for more than 40 percent of total healthcare provider spend, are increasing rapidly. And endemic COVID-19 can lead to increased morbidity, particularly for the most vulnerable populations.
Healthcare inflation is primarily being driven by rising labor costs, but other factors are compounding cost pressures. For example, the cost of utility services has increased by 15 to 25 percent over the past three years. Overall, inflation could result in an additional $370 billion in healthcare spending through 2027, above the expected baseline increase.
The health care workforce crisis cuts across all occupations, but research from McKinsey—both globally and in the United States—shows that it is particularly acute in nursing. A decline in the labor supply from outside the United States, demographic changes, and increased attrition driven by healthcare worker decisions to pursue careers outside of patient care or to retire are all increasing pressure on the labor supply.
2. Who bears the burden?
Excluding the impact of the brewing storm, NHE should grow 5.5 percent annually through 2027.8 However, these additional costs will push the NHE growth rate to 6.8 percent, or about 2.5 percentage points above projected GDP growth, according to McKinsey analysis .
In a survey of employers, 60 percent of respondents said healthcare costs had outpaced inflation over the past three years; 63 percent expect this trend to continue, indicating potential cost challenges in the future. In addition, 95 percent of employers said they would pass on cost increases of more than 4 percent per year to employees.
While average household savings remain temporarily high due to the pandemic, consumer confidence is falling and real wage growth is negative as a result of inflation. Consumers are already facing significant medical costs — for example, in a February 2022 survey, more than 20 percent of consumers said they had more than $1,000 in medical debt — and they will struggle to meet these higher costs for much longer wear.
A number of factors suggest that the government may find it difficult to shoulder the additional burden of medical costs. First, recent record-high federal budget deficits have pushed national debt to historic highs. The two largest deficits in history occurred in 2020 and 2021 at $3.1 trillion and $2.8 trillion, respectively. This spending has increased the federal debt as a percentage of GDP to 124 percent. Meanwhile, rising interest rates are increasing federal debt servicing costs. In addition, healthcare spending accounts for a record 20 percent of GDP.
3. How to weather the storm
During the pandemic, leaders across the healthcare ecosystem rallied around top priorities in surge after surge, collaborating in unprecedented ways and making and executing decisions at breakneck speed – all to save lives and keep the healthcare system from collapsing to rescue. Now they can build on that momentum not only to weather the storm, but to emerge stronger from it. Although profit pools are at risk, healthcare leaders who adjust their business models accordingly can expect bright prospects for their organizations in the years to come.
Accelerating and scaling innovation in healthcare transformation, increased productivity, technology activation and organizational growth will be central to the efforts of healthcare leaders. Combined, investments in these areas could create more than $1 trillion and up to $1.5 trillion in value. Achieving this value will require structural changes to the system to better align incentives for risk takers and provide a patient-centric experience across the continuum of care.
The future of care is fundamentally changing. Trends are slowly but steadily moving towards a world where care is more personalized and supported by technology. More patients are being cared for on an outpatient basis, at home and virtually. Data and analytics inform decision making across the continuum of care. The shift towards value-based care is reflected in care models and insurance. All of these changes in care are increasingly being financed by private investors. Meanwhile, regulatory changes are supporting increased price transparency and secure sharing of patient data, and the overall healthcare ecosystem is becoming more integrated, though still fragmented.
Technology enablement is the need of the hour. As providers and payers pivoted to technology-enabled care services during the pandemic, they found they were able to transform systems much faster than they previously thought possible. Additionally, $250 billion in US healthcare spending could potentially be shifted to virtual or virtually-enabled care, ultimately leading to reduced care costs and better outcomes.