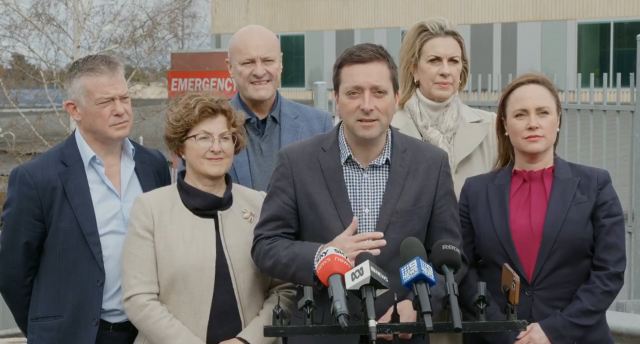 By Parker McKenzie
As Victoria's healthcare system solidifies as a key issue ahead of the November 26 general election, Maroondah Hospital will receive funding for a modernization regardless of which party forms government after both the Labor Party and the Liberal opposition faced competing electoral commitments over the weekend received.
On Saturday, September 17, Liberal Party leader Matthew Guy announced a $400 million upgrade to the hospital if his party wins the state election.
"The eastern suburbs depend on Maroondah Hospital," Mr Guy said.
"That's why this $400 million announcement is so important for upgrading intensive care units, for upgrading cancer centers, but most importantly for building an on-site training facility."
The commitment includes a new emergency department, a new intensive care unit and intensive care unit, a new wing that will increase the number of hospital beds from 100 to 426, additional and renovated operating rooms, a training facility for nurses and doctors, and an expansion of the Cancer Center, an expanded mental health unit Health and 300 additional parking spaces.
Croydon MP David Hodgett said people were talking about the hospital and its needs "all the time".
"300 new parking spaces, 150 of which are for employees, is one of the big issues," he said.
"I can't tell you how big this message is, it's great, it serves the Croydon electorate and will make people tremendously happy."
Evelyn MP Bridget Vallence said it was great news for the community in the Yarra Ranges.
"So many people in the Yarra Ranges, our elderly residents and our young families with their children, come to Maroondah Hospital when they need medical care," she said.
"In this hospital, there are long wait times for surgeries, wait times for emergencies, and our plan is to increase bed capacity, build a new emergency room and of course, importantly, build a nurse training facility."
A day later, on Sunday 18 September, the Labor Party announced an electoral commitment of its own: $850 million to $1.05 billion in funding for a new and expanded emergency room, 200 new inpatient beds, a dedicated children's emergency room, new Operating theaters and day treatment units and a new mental health center.
Premier Daniel Andrews said the upgrade would see thousands more patients treated each year, with construction slated to begin in 2025.
"A new hospital for the East needs a new name, so it will be the Queen Elizabeth II Hospital," he said.
"It's also good for the job. 2,500 construction workers will build this family hospital in East Melbourne."
Health Secretary Mary-Anne Thomas said the hospital will provide the modern facilities for "our hard-working nurses, midwives and doctors who need to provide the best possible care for families in the growing eastern suburbs".
"We made it free to study nursing and midwifery, creating a pipeline for future health professionals," she said.
"When the new Queen Elizabeth II Hospital opens from 2029, we will have the workforce needed ready to go."
Bayswater MP Jackson Taylor said the Far East deserves top-notch hospitals.
"Alongside our modernization and expansion of Angliss, this new development at Maroondah will mean our community has access to all the care they need close to home," he said.
"I am proud that we have delivered the new public aged care facility at Wantirna, that we are about to start work on a major modernization of the Angliss and, if re-elected, will rebuild the Maroondah Hospital. It is absolutely what the locals deserve."
In November 2018 – ahead of the last state election – the Labor Party announced a new emergency department for children at Maroondah Hospital, which was also included in the weekend's announcement. It has yet to leave the planning stage of development.