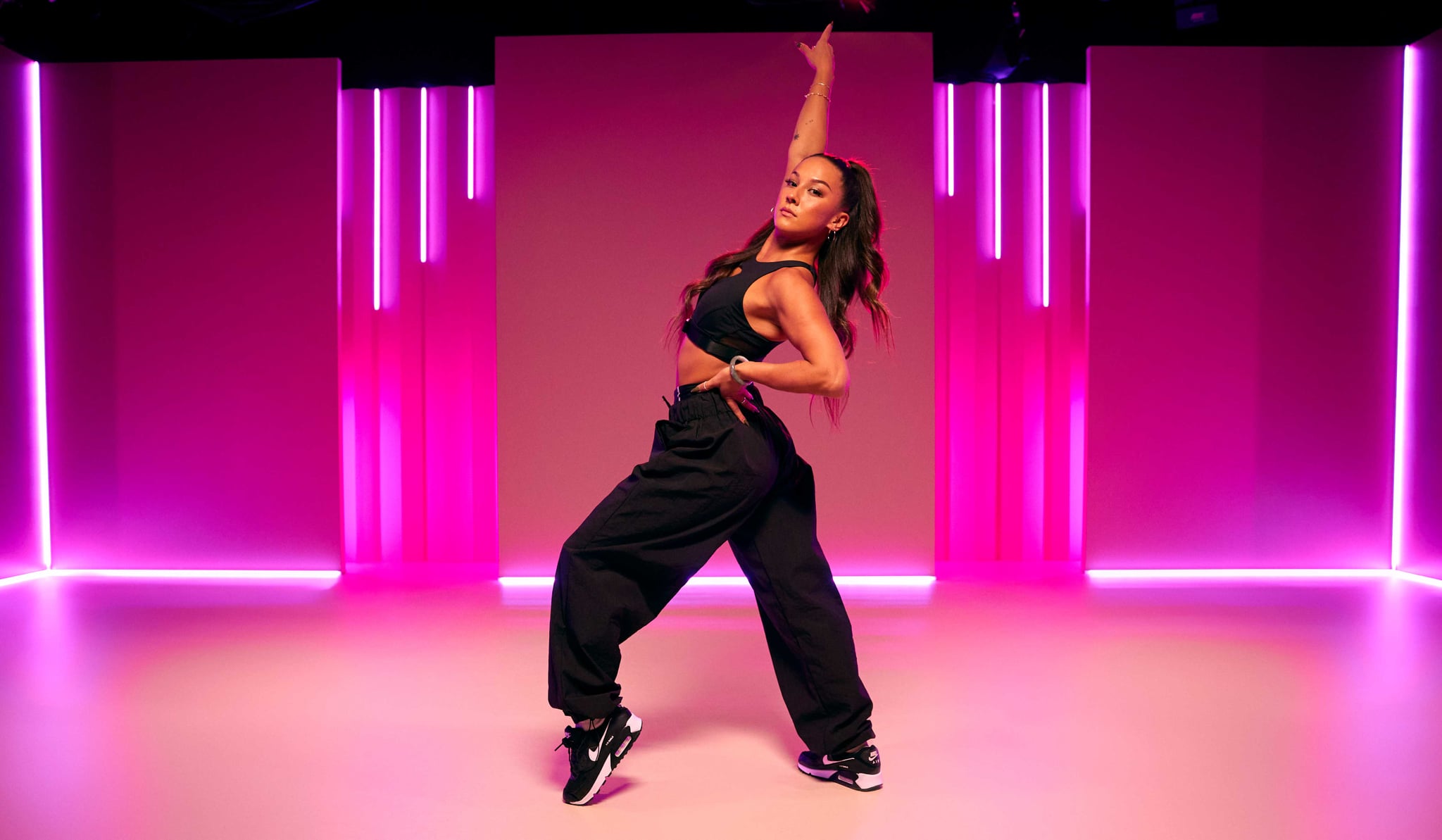 Catch Sheela Awe and the other Dance Fitsugar trainers in new episodes airing every Friday on the POPSUGAR Fitness YouTube channel.
When Sheela Awe first came to Hollywood about 10 years ago, it was a different world. You wouldn't go to dance classes to get a seat in the front row so you could film it for your YouTube channel or TikTok; They would only go "to learn, to experience, to dance," she says. Though Awe originally relocated to the United States from Southeast Asia to pursue a professional dance career, her path has taken a turn well known in the industry — that is, she's gone digital. She has blossomed from a dancer hopeful into a multi-faceted entertainer, presenter and content creator, using movement as one of her ways to surprise, delight and captivate audiences on TikTok and Instagram, and most recently as a new presenter for POPSUGAR's Dance Fitsugar Series on Youtube.
As times change, as the dance world changes, you must change with it.
While it can feel like there are endless voices on the internet these days, Awe brings a fresh perspective and light-hearted humor to everything she does. The result? Infectious energy and personable content you just can't stop watching, whether she's performing a dance combination, entertaining you with antics on the streets of New York City, or teaching Mandarin sayings during her #MandoMondaze series. We promise – it only takes one video and you will be hooked.
Follow your dreams around the world
Awe's parents are from Germany and Taiwan, and Awe was born in South Korea and grew up throughout Southeast Asia. She began dancing as a young child, among a host of other creative extracurricular activities. "In the household I grew up in, we were always taking jazz lessons or learning an instrument because I'm half Asian too, so it plays into this whole cultural thing where it's like, 'Then I have Chinese school on Saturday, then I have ballet on Mondays, jazz on Tuesdays, piano on Wednesdays, violin on Thursdays, and calligraphy on Fridays," she says.
Then, when she was about 16 and living in Shanghai, Awe discovered the local underground hip-hop dance scene. She's never loved ballet, but hip-hop — and all of its "down-to-earth" moves — clicked for her, and this casual environment was a perfect place to find her moves. "You don't go there to shoot a music video or book dancers for a tour. It's more like a love of hip-hop and just a love of dancing, period," she says.
She started teaching dance and appeared in local shows and music videos, and by the end of high school she decided she wanted — no, had to — pursue her dream of becoming a professional dancer. She scrapped her plans to study something 'business-y' in England and instead, "I was like, 'OK, where do dancers thrive or thrive?'"
The answer: New York City. Awe began studying media and culture at The New School while majoring in dance as a minor, spending years honing her craft around legendary dance institutions like Alvin Ailey and Juilliard. "But basically I still wanted to do more advertising, and that was all in LA," she says. So it started after high school.
Let everything happen in LA
In LA, Awe began auditioning, arranging dance performances with various musicians, appearing in music videos and touring with Bhad Bhabie. She was also part of a girl group, Syd Youth, from 2013 to 2015. She never stopped dancing, but she did start spending more time in front of the camera, "talking, talking, and talking," she says — for example, as Shein's live stream host and one of the faces of "The Loop," a Snapchat show about street style.
When social media content felt like the next big thing in entertainment, Awe was ready — she says creating came naturally to her. She wasn't exactly looking for social media exposure, but she did start posting unique fashion spreads for fun. They've really "taken off," she says.
Her approach was simple. She and her friends are already creative dudes, dancers, and all-around "goofy people," says Awe, so she started filming herself while doing the same things "that I used to do without cameras." Sometimes that meant beefing up or going wild at a music festival. But for Awe, it also meant filming choreographed routines that involved jumping over shoeboxes or singing into a potato in her living room.
What brings them to the mix
Awe doesn't reserve her comedic take for TikTok: she's bringing it to the POPSUGAR stage, too. "I want people to watch these videos and I want them to laugh while they exercise," she says. "I want them to feel inspired, not embarrassed… and also feel empowered. To do all this with laughter and humor, because that really is the best medicine. I know people — whether they're going through a heartbreak, they've just been fired, or whatever they're going through — they're always like, "I just need to work out. I need to sweat. I need to do all these things." Doing that, laughing and enjoying, healing and at the same time Have fun the healing process, that's perfect."
Much of her social content was inspired by her multicultural upbringing. For example, Awe shares her favorite Taiwanese takeout dishes, and she teaches a new Mandarin phrase each week on her social channels called "MandoMondaze." "People who don't speak Mandarin or who aren't even Asian look at this and go, 'Oh my God. I love it. It's what I want to do and what I want to learn,'" she says. "That's a big part that also drives me: in this sense, wanting to continue bringing in my culture or wanting to continue representing my culture."
But no matter how magical everything seems on social media, working in the entertainment industry and as a content creator is not without its ups and downs. Aside from her "perfectionist" Virgo urge to reshoot everything until every shot is flawless, Awe says one of the biggest challenges she faces is how inconsistent the industry is. "You're going to have the best experiences, you're going to have a flow of income, and then you're going to find stability, which is going to be very short-term," she says. "Then you're back in the trenches and you're like, 'Oh my God. Why did I do this? Why did I choose this career and path?'"
In the end, she says, the feeling of gratitude always comes back: "I wouldn't have it any other way." And when she's in one of those lows, she just has to remind herself that "It doesn't mean I'm back to square one, it just means I'm creative again and just need inspiration. Sometimes that takes time. "
Image Credit: POPSUGAR Video