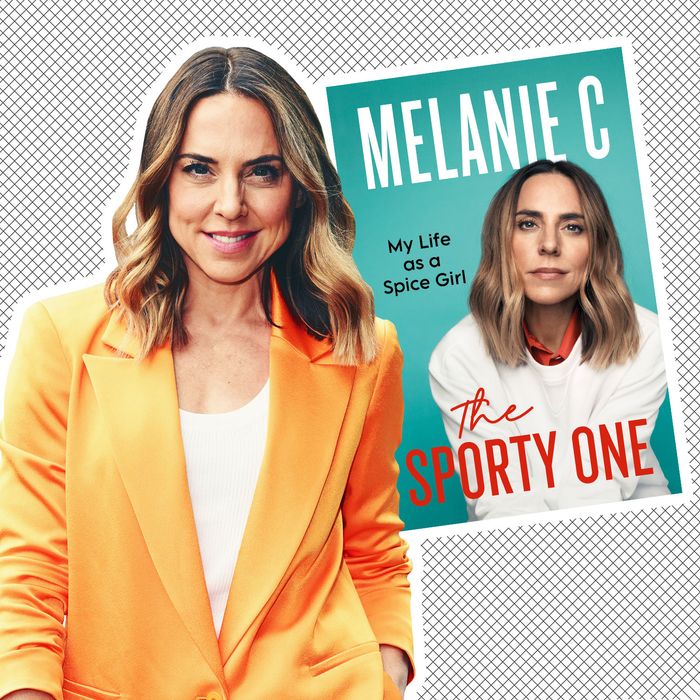 Photo Illustration: The Cut; Photo: Karwai Tang/WireImage
It's hard to believe it's been almost 30 years since the Spice Girls made their way onto the charts. After the release of "Wannabe", the band's catchy debut single, in 1996, the five-piece was catapulted to worldwide fame. Over the course of the next two years, Scary, Ginger, Baby, Posh, and Sporty Spice were seemingly everywhere, and in this pre-social media era, it was difficult to turn on the TV or flip through a magazine without being confronted by Spicemania.
But that meteoric rise to success — and the relentless touring, recording, merchandising, and press that went with it — took its toll. In her new memoirs The sporty onePulling back the curtain, Melanie "Sporty Spice" Chisholm shares the pressures of fame combined with negative publicity and a controlling manager led to a battle with an eating disorder and depression. As she writes in the book, "I was gripped by a gripping, overwhelming need to control everything in my power: my weight, what I said, what I drank, how I behaved. I quickly learned to stay calm and not rock the boat. I've become very hard on myself."
At the first stop on her book tour in Edinburgh, the musician told the cut that she'd be there The sporty one Not intended to be a self-help book, she hopes it will serve as a "shoulder to cry on" of sorts for others struggling with similar challenges. "A hell of a lot has been written about me, and not all of it is true, not all of it is fair," says Chisholm. "This is my opportunity to put it in my words. I wanted to be very open and honest because I really think that's what's most helpful to people."
How does it feel now that you are sharing your book with the world?
i feel relaxed I was very aware of how it would affect my family and the other Spice Girls, but once they read it I felt OK that's cool. I got it behind the important people it affects. Now that I have support from my friends and family I feel a lot bolder to release it.
When researching the book, you looked through your old press coverage. How was it for you to get involved?
It was quite somber when I look back at the narratives that were formed about myself and the language that was used around women at the time. I mean, it hasn't improved much, but it was pretty shocking at the time. That was hard. But it was such a mix because there are so many incredible moments. I wanted to make the book really visual.
I think of the Spice Girls' iconic moments, the images that people will remember, like the Union Jack dress – I wanted to be able to convey a behind-the-scenes feeling. It was wonderful to remember that time. And go through it chronologically and go Crap! We've done so much! It's crazy! But then of course there were hard things. I was really aware that it wasn't too much of a thing. I wanted it to be a balanced read of this incredible, crazy life I've had so far.
You write in the book that you had "a very complex relationship" with the name Sporty Spice. Are you more comfortable with it now?
I love being sporty. I embrace that and her more than ever. In the beginning it was really fun. These nicknames were given to us. It was a bit of throwaway fun in a magazine, and it was based on how we looked or how we acted, and they just stuck. When it came time to retire it was hard to have that nickname 'cause you're like that I want people to see me as more than that. That's not all I am. I'm not just a Spice Girl. I'm not just Sporty Spice. I spent many years rebelling against the name and even the band. It took me a long time to go You know what? That's amazing and that's a big part of me. But all the other things too. It's hard when you're young; When you're truly successful, you get frustrated with the limitations of just being a part of that unity. When in reality it is the entity that allowed you to grow and be all the other things you can be.
There were a number of ironies that you pointed out in the book. You were Sporty Spice but lived an unhealthy lifestyle. You encouraged girl power, but your manager had rules about what you could say, when you could speak, and if you could date. It's almost like you live two separate lives. Was that how you felt at the time?
What bothered me the most was being out there talking about girl power, encouraging people to be who they are when I was really struggling and not eating right. I worked out obsessively and was underweight for most of this Spicemania period. I didn't give people a healthy image and that's really hard. I am a very honest person and it took me a long time to forgive myself and overcome the guilt of this dishonesty. I felt like I was living a little lie.
The saddest part of the book for me was that you were in a band with four other women — the only other women on the planet who could understand what you were going through — and yet couldn't or didn't want to come together to help each other. Do you think you would have had a better experience if you could have talked to them?
Ah, we talked! But maybe we didn't talk about the right things. we were so young We were in our early 20s. Emma was just a teenager. What happened to us, while beyond our wildest dreams, was somehow unprecedented. There was no support; there was nobody who could really help us deal with it and deal with it. I don't feel that artists have been given the support they need, be it management or labels. I know, like everything else, it changes at a snail's pace. There's more support for mental health on labels now, and we're speaking more openly about what's so important. But back then we just tried to get the best out of ourselves with the tools we had. And the manager we had — I have this complicated relationship with Simon Fuller. He also did what he thought was the right thing to do. In hindsight it might not have been the best, but it was all our first time.
As a kid, you wanted to be a famous pop star. If you could go back in time with what you know now, would you have chosen the same path?
Yes, in any case! I'm doing so much publicity around the book and the UK media will be dealing with negativity and I think Oh my god I don't want people to think this is a really depressing book. or go Oh, boohoo, you with your horrible life. That's not what it is about. My life is extraordinary. Of course I regret it. We all regret. But those experiences brought me to today. Performing is all I ever wanted. That's what makes me really happy – to be on stage, to connect with people, to entertain people. I've played in the best places in the world. The Spice Girls have found success in all corners of the world. I wouldn't change anything about that.
You share quite a bit about your struggles with eating disorders and depression in the book. How are you now?
It took me so long to recover. I would never be arrogant enough to say I'm better because I'm always aware that they might come back. I've really learned to take care of myself. Sometimes it's impossible to maintain a healthy work-life balance. There are times when I'm very tired or the work is very stressful, I can feel things slipping. We all talk about self-care, but staying current on everything is so important to me.
You write that "2002, 2003 and 2004 weren't my most successful years commercially, but I was in such a better position emotionally." Do you think there's a connection between your mental and physical health and your career?
That is interesting. I did not notice. To be honest, what happened with the Spice Girls was so intense and such a big life changer. I was so young, had to deal with all the press intrusion and people's opinions and the pressure and the workload and everything. I think that was the peak of my malaise. I was always in control, but when my body couldn't keep up, I started getting high. My body was just starving for food and that coincided with my depression. I think it's natural for people to have ups and downs. I wouldn't say my mental health is bad when I'm successful. I think it's just that sometimes when I'm not able to fully take care of myself, I need to make sure I find the time.
You share in the book that when you were just starting out, Annie Lennox told you to beware the bastards in the entertainment industry. What advice would you give to a young person who aspires to a career in music?
I mean I love imparting my wisdom. [Laughs.] My advice would be just take it. Don't push it to the point of burnout. It's still a problem in the industry. You are a commodity when you start being successful and start making lots of money for a lot of people. People start pushing you, but you're ambitious and you want to do well, so it works into their hands. So just take care of yourself. You have to think about the long game.
This interview has been edited and condensed for length and clarity.