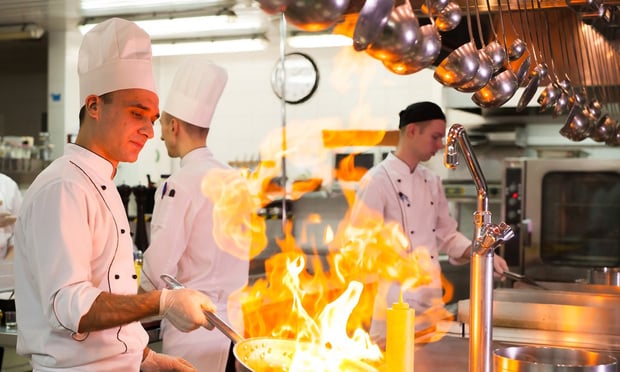 Although overall injuries among restaurant workers were down in 2021, certain types of injuries saw dramatic year-over-year jumps, according to AmTrust Financial. Compared to pre-pandemic levels, crush injuries increased by 89%, mental stress injuries increased by 71%, fainting incidents increased by 61%, and inflammation saw a 35% increase. Strains increased by 23% and dislocations increased by 11%.
"From Q2 2021, when vaccines became more widely available and capacity restrictions were lifted, restaurants reopened for 'normal' operations but faced staff shortages. We are seeing an increase in the number of reported injuries due to shortages, turnover and new hires," AmTrust noted in the report.
Cuts continue to be the most common injury among restaurant staff, followed by falls and slips, strains, and burns or scalds. Cuts are the most common, but also result in the lowest average payout per claim among the previously listed injuries.
AmTrust reports that cuts are 30% more common than falls, but costs incurred for fall damage are 410% higher. The average cut, puncture or scraping claim pays $1,519, while the average for a fall is $10,041. Claims involving strains have an average payout of $9,277, and burns and scalds have an average payout of $3,160.
Injuries resulting from motor vehicle accidents are costly on average, with nearly $20,000 paid out in claims.
"Restaurant workers can face high levels of stress, especially with staffing shortages," said Matt Zender, senior vice president, workers' compensation strategy, at AmTrust. "Restaurants should rely on their escort experience to ensure employee safety. They can use this opportunity to help showcase what makes their job unique and use resources from their workers' compensation carrier to help address pre-accident injury risks."
Seasonal trends
Restaurant injuries typically increase in late spring through summer, with July typically seeing the most claims. AmTrust attributes this to summer seasonal staff having less training and usually less experience, making them more likely to be injured on the job. January, February, September and November have the fewest injuries, on average.
AmTrust's review of about 170,000 claims also found that cuts were highest during the second quarter. Burns and strains are typically lower in Q4, which is when motor vehicle losses are typically highest.
Other quarterly injury trends seen in restaurants include:
First quarter:
Second quarter:

Increase in injuries to knees, fingers, shins and elbows.

Third quarter:

Elbow, lower arm and leg injuries are higher.

Fourth quarter:

Back injuries and multiple lower extremity injuries are at an all-time low.
Related: