As world leaders gather in New York for the United Nations General Assembly (UNGA), many of the most momentous meetings are already taking place behind closed doors.
Core items:
The Foreign Secretary reiterated Australia's support for Ukraine at a meeting with his counterpart in New York
Senator Wong said preparations are underway for a second meeting with China's Wang Yi
Australia's national statement to the UN General Assembly will be read by Senator Wong later in the week
Foreign Minister Penny Wong met with her Ukrainian counterpart Dmytro Kuleba local time on Tuesday, where she reaffirmed Australia's support for the country, which was occupied by Russia in February.
Senator Wong said the war in Europe "cast a shadow" on the annual meeting of the institution established to ensure world peace after World War II.
"We all have an interest in ensuring that the UN Charter is observed," she said.
"It's not a question of wealthier or less wealthy countries, it's not a question of developed or developing countries.
"All countries have an interest in territorial integrity being respected and the UN Charter being respected."
On Twitter, Mr. Kuleba confirmed that Ukraine has requested more Bushmasters from Australia.
"We can always do more, and the government will continue to look for ways we can support the people of Ukraine," Senator Wong said, without pledged further military aid.
The comments made on the sidelines of the gathering ahead of Australia's national declaration – which Senator Wong is due to make later in the week – show how delicate diplomacy is at play.
"Australia open to engagement"
The ABC has already confirmed that officials are currently negotiating a separate meeting between Senator Wong and Chinese Foreign Minister Wang Yi as Australia and China seek to normalize a strained relationship.
It is the second meeting between the two ministers in the last 12 weeks.
"I have made it clear that we are open to engagement," Senator Wong said.
"I understand that these agreements are being finalized.
"And when they're completed, then I'm sure we'll have a productive engagement."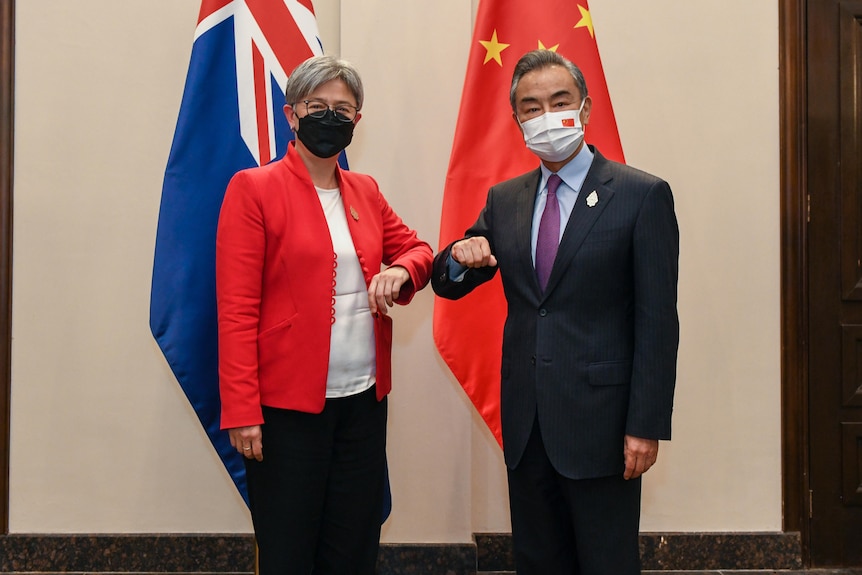 A federal government source told ABC on Wednesday morning that the meeting was another "positive sign" that China remains interested in pursuing a high-level engagement with Australia, but stressed that there were still "major obstacles" to a full one reorientation of bilateral relations.
Defense Secretary Richard Marles said the government had opted for a new "tone" with China but Australia would not abandon its core national interests while the talks went ahead.
"What we are trying to do is stabilize the relationship with China. We've been trying to do that since we came to power," he told RN Breakfast.
"If a meeting happens then we can see it in the context of trying to have that stabilization happen."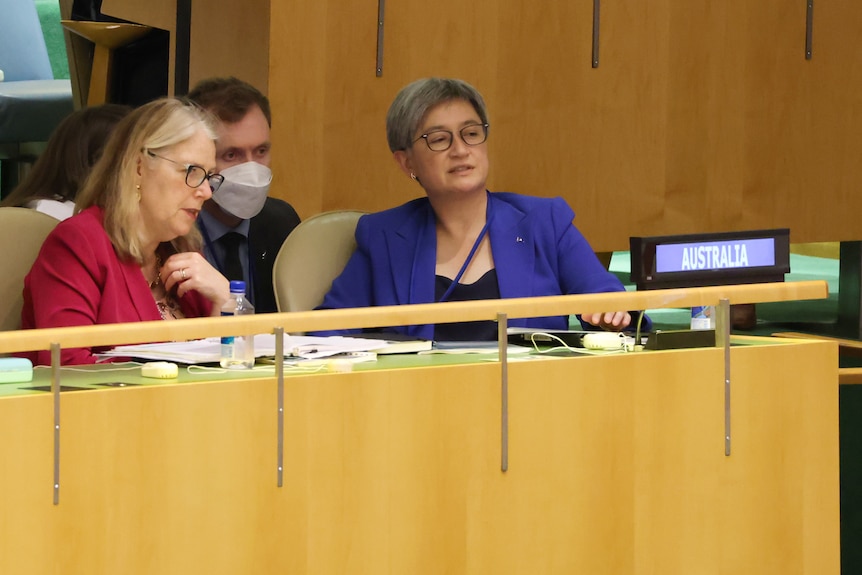 After a similar meeting with her Japanese counterpart, Britain's new Prime Minister Liz Truss took a harder line, with a Downing Street spokesman calling China a "strategic threat".
"The prime minister condemned China's recent provocations over Taiwan that threatened Japan's special economic zone," the statement said.
"Leaders decided to work together to address the strategic threat posed by China."
Senator Wong, on the other hand, called for a "strategic balance".
"We have an interest in working with others to ensure strategic balance," she said.
"We want a region where sovereignty is respected."
"Our world is in danger – and paralyzed"
As the week progresses, the war in Ukraine is likely to continue to dominate official and unofficial talks.
In his speech, French President Emmanuel Macron accused Russia, a member of the United Nations Security Council, of knowingly violating the UN Charter and the principle of "sovereign equality of states".
He scolded those among the 193 member states that have remained "neutral" on the conflict.
"You are wrong, you are making a historical mistake," he said.
"Those who remain silent today are in a way complicit in the cause of a new imperialism."
Earlier in the day, UN Secretary-General António Guterres used his opening remarks to issue a stark warning that nations are "locked in a colossal global dysfunction" that is making it difficult to deal with humanity's most pressing crises.
"Our world is in danger – and paralyzed," he said.
Mr Guterres cited the war in Ukraine amid other conflicts; the climate emergency; and growing economic and educational disparities between the world's rich and poor as top priorities for leaders to address.
"Let's work as one, as a coalition of the world, as a united nations," he said.