Every Sunday morning, my phone gets a Screen Time notification about how much (usually too much) time I've been on my phone for the past week. I use my cell phone a lot. I am writing this on my cell phone. I also know when not to use my phone, when to put it on silent, and when it's bothering me more than I am. I learned how to do this because sometimes this screen time notification is a bit high.
Screentime gets a really bad rap, and more often than not, it's deserved. However, not all screen time is the same. Grouping all screen times as equal is like saying all "paper times" are equal — reading the newspaper, going through bills, building paper airplanes, writing letters.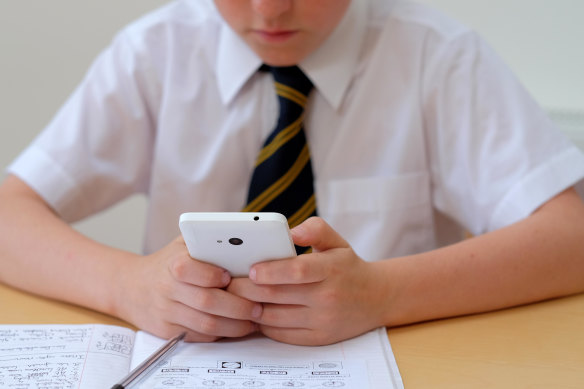 Our phones now house most of our lives – camera, wallet, important documents, banking, social life and of course a phone. Our phones are also the scene of a lot of darkness, especially for young people. Social media can offer community and connection as well as cyberbullying and dangerous behavior. It has been linked to worsening mental health in teenagers.
And yet I'm not a fan of statewide high school phone bans. NSW opposition leader Chris Minns recently said that Labor, if elected, would ban smartphones between 9am and 3pm in high schools. Note that smartphones were banned in primary schools back in 2020 by former Education Secretary Rob Stokes.
The decision that all state high schools should ban phones is an election blow because parents are always trying to get their kids off their phones, and isn't it a good thing the school is doing something about it? Sure, but banning them during the day doesn't get rid of the root cause of many of the problems that occur on phones.
Loading
Phones are definitely a problem, but more importantly, they are symptomatic of the problem. Parents want their kids to call less, but they also want to be able to contact their kids whenever they need it. In my time in the classroom, more often than anything else, the phone that accidentally rings in a blazer pocket is a parent changing plans for that afternoon or reminding their child of something.
A nationwide telephone ban also takes away the principle of autonomy. "I will tell you how to run your school, thank you very much." And yet at the same time the message is: "I made this new rule. You figure out how to monitor it."
I was at a school at the beginning of a phone ban and while it was successful, the first few months involved a lot of teachers running around writing student names on post-its and sticking them to phones in hopes that they didn't fall off when you carry them to reception to pick them up after the school bell.