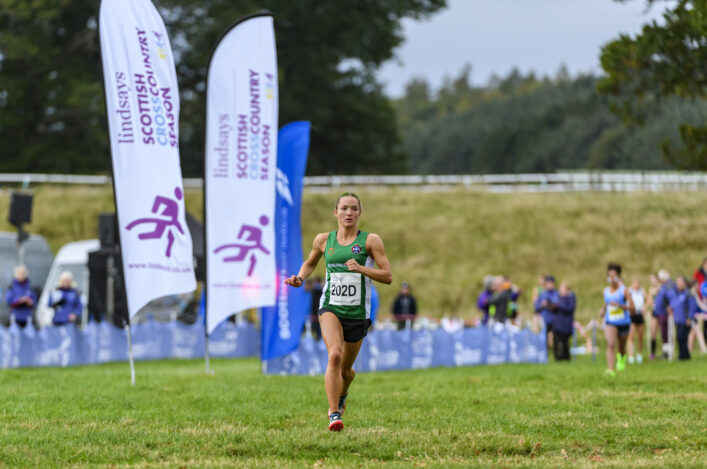 Photo by Bobby Gavin
Lindsay's website
ScottishAthletics is pleased to confirm a new two-year extension of our cross-country sponsorship deal with Lindsays.
That Lindsay's cross country seasonwhich covers national and district events each winter will now continue through the end of the 2023-24 season.
And the contract extension extends our partnership with the renowned law firm by a full ten years – This makes it one of the longest-running sponsorships in Scottish sport.
Lindsays first got involved with our Cross Country in 2014 with a focus then on national events such as the National Relays, the Short Course and the National XC.
Over time, District Relays, District Champs and Masters XC were added, as well as the Lindsays Trophy, which focuses on club attendance numbers.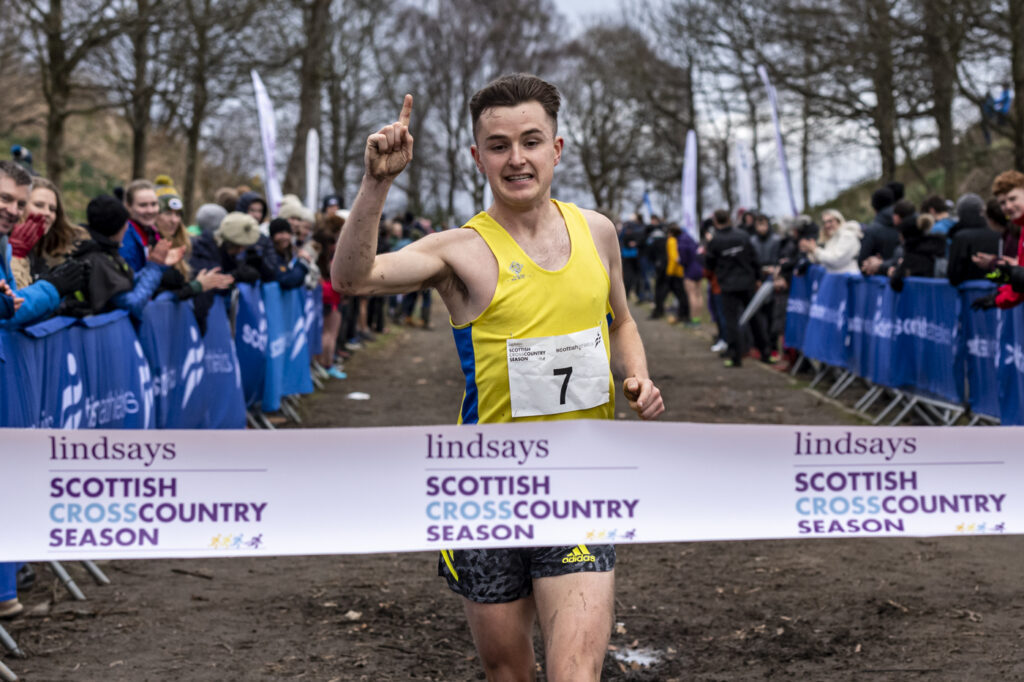 Jamie Crowe wins the seniors race at Lindsays National XC in Falkirk in February (Photo by Bobby Gavin)
Ian Beattie MBE, Lindsays Chief Operating Officer, said: "We are extremely proud to have our name associated with the Scottish XC season and to extend our sponsorship for a further two years.
"The triumphs of our elite athletes in Scotland inspire competitors at all levels – and the continued success of these events is a testament to that.
"It's incredibly well viewed by clubs and we're delighted to be able to play our part in making that happen through one of the longest-running sporting sponsorships in the country.
"As a company, we encourage participation in sport as part of a lifestyle that promotes good physical and mental health.
"The fact that 115 clubs competed last season shows that our sponsorship is fully in line with our ethos. Good luck to everyone who participates over the coming months.'
+++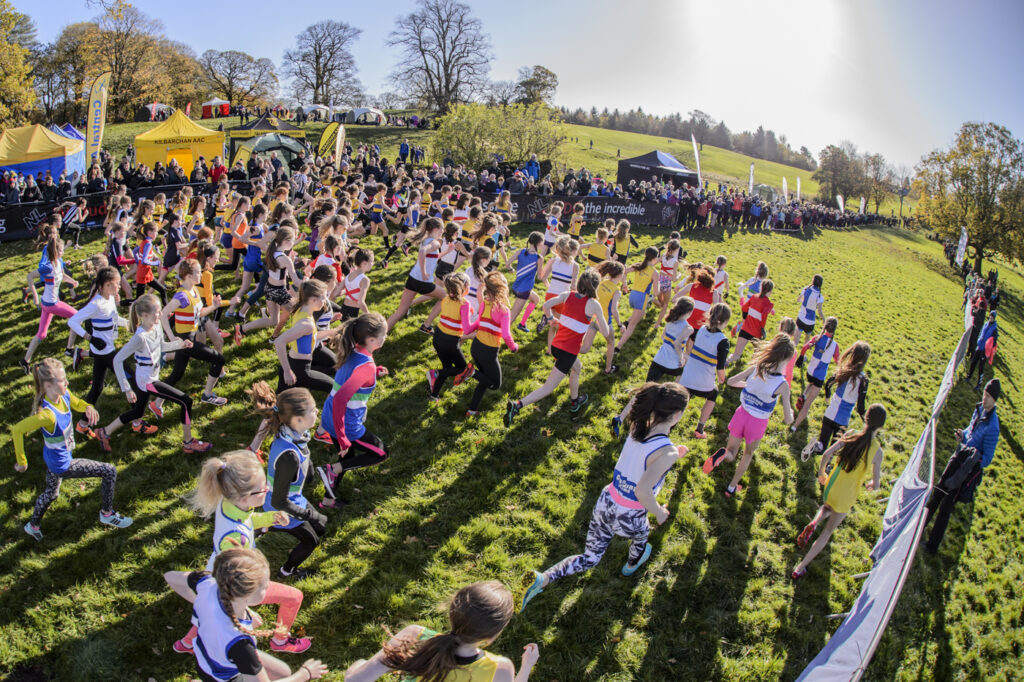 Clubs: Register online for Cumbernauld
That Lindsay's District XC Relays will be held on October 1st (East) and October 8th (West and North) and registrations are now closed. Thank you for your support.
Clubs can now go online and enter names for them Lindsay's National XC Relays – returning to Cumbernauld this year (having held Scone Palace in 2021).
The event will take place on Saturday October 22nd.
+++
"I am pleased to confirm that after discussions with Lindsays we have secured their support for Cross Country for the next two years," said our Chief Executive. Colin Hutchinson.
"It's great to see a partnership that began in 2014 continue into 2024. The goal back then was to try to increase the number of our national cross country events and that has happened a lot.
"Covid obviously impacted 2020 but there was a very solid 'comeback' last winter and we hope to build on that by working closely with our clubs.
"Linsays' support helps our event presentation and media/communications at events like National XC – with a delayed online live stream, which is now fully normal, and, weather conditions permitting, drone footage.
"We are all excited for the start of another season and the first events are those Lindsay's District XC Relays The beginning of October."
The three main national championships are held in Cumbernauld (relays), Kirkcaldy (short course) and Falkirk (National XC).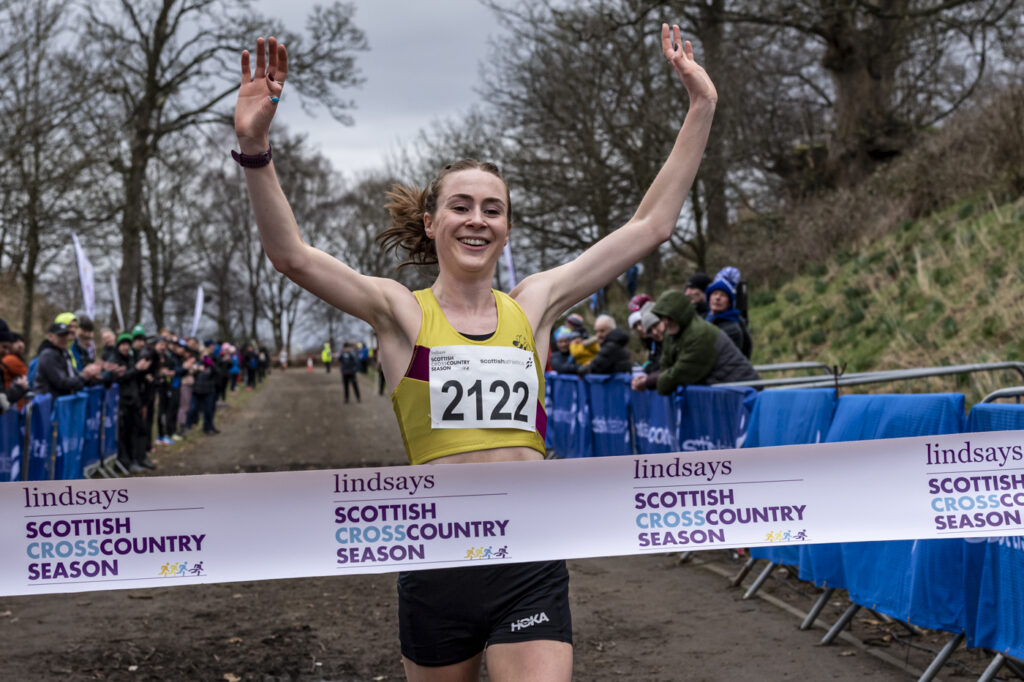 Mhairi Maclennan wins the Senior Women's Race at Lindsays National XC in Falkirk in February (Photo by Bobby Gavin)
+++
tags:
Cumbernauld, Lindsays, Lindsays Cross Country Season, Lindsays National XC Relays