The burly commando ambles down the apartment block's porn-lined hallway, a can of Red Bull in hand.
Core items:
A video shot by an Australian soldier in 2012 shows commandos in Afghanistan discussing a "quota".
Another video shows a soldier shooting at seemingly unarmed civilians from a helicopter
A third video shows two Australian commandos watching an Afghan soldier beating a man crouching on the ground
"Final thoughts while we rock out the pre-job?" asks his Australian comrade holding the camera.
The Commando stops, leans forward and rests his elbow on a shelf. His eyes lock onto the camera through the green and black camouflage paint smeared across his face.
"I think we'll get the quota," he says calmly.
"Court!" cheers another command behind him while two others roar in the background. "The quota! The quota must be met," says the soldier with the camera.
It is late 2012 and the Taliban enemy shows no sign of hesitation. Unlike the Australian commandos, the Taliban insurgents do not obey the laws of armed conflict.
They don't wear uniforms and hide among civilians. It seems no matter how many of their fighters are killed on the battlefield, more will appear to take their place.
heavy toll
In the 11 years of conflict up to this point, the Taliban have already taken a heavy toll on Australians. During this rotation, the 39th Australian will die in Afghanistan.
When Australian Special Forces leave Afghanistan a year later, Special Forces soldiers will make up about half of all Australian casualties.
In this rotation, the men of the 2nd Commando Regiment are targeting one of the main weapons used by the Taliban to fund their insurgency – opium.
Together with the US Drug Enforcement Administration and soldiers from Afghanistan's National Interdiction Unit, they have hit drug lab after drug lab.
On one mission, they set fire to more than a ton of Taliban opium.
In video obtained by ABC Investigations, these commandos once again prepare to embark on another dangerous off-wire mission and capture their preparations on camera for posterity.
Neither the platoon commander nor any officers appear to be present.
After his first interview, the commando continues with the camera through the gloomy hallway of the block of flats.
"What's going to happen tonight? Ready for 'Operation Final Job'?" he asks a comrade who is getting ready in his room.
"There'll be bloody murder," the soldier replies quietly.
The cameraman returns to the room and discovers a new interviewee.
"We need a primary kill team. What will happen tonight?"
"We have a quota of 10. The quota is 10," he tells the cameraman.
"Will we meet the quota?"
"Yes."
Another commando emerges from his room and into focus of the camera.
"Can we make the quota tonight, big guy?"
"F*** yeah," replies his buddy. "I'm going to kill some dogs too!"
The video lasts a minute and a half and ends with the cameraman turning the lens on himself.
"Final task. Sign off. We will meet the quota."
Altogether there are a dozen mentions of a quota or of reaching the quota or of reaching a quota in just 90 seconds.
So what's the quota?
ABC Investigations spoke to former commandos deployed to Afghanistan.
One says he's never heard the term, is disappointed it's mentioned in the unit and suggests it could be "guys trying to prove themselves".
Others questioned whether it could relate to a count of killings.
A former senior official in that rotation told ABC Investigations that any talk of a quota should have been "instant triggers" to stamp them out.
"Honestly, you can't talk like that," said the former officer.
"It would be unacceptable to even joke about it. It's just not possible."
Glenn Kolomeitz was deployed to Afghanistan as Legal Officer for the Australian Defense Forces as part of the Special Operations Task Group. It was his job to advise Australia's SAS and Commandos on rules of engagement and the law of armed conflict.
"I don't think for a moment that they're talking about some kind of kill rate, not really," says Mr. Kolomeitz.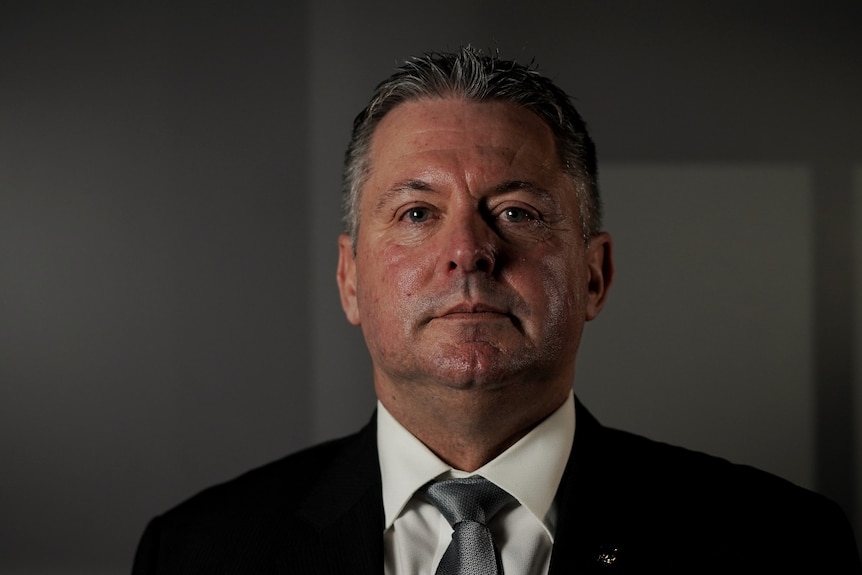 While Kolomeitz appreciates the commands, he concedes that the "Quoten" video doesn't look good.
"That didn't square with the 2nd Commando that I knew and value so much," he said.
Unlike their elite counterparts in the Special Air Service Regiment (SAS), the Commandos emerged largely unscathed from the Australian Defense Force's Inspector General's Inquiry into Alleged War Crimes conducted by Army Reserve Major General and New South Wales Supreme Court Justice Paul Brereton.
But this video raises serious questions about their behavior in Afghanistan.
The Brereton inquiry had previously cited a case in which a unit in Afghanistan was allegedly driven to shoot prisoners to add to the number of people killed.
"A tally total and a desire to increase it from 18 to 20 appears to be related to the deaths of two prisoners who were shot after an explosive entry into a compound that did not produce the expected outcome," it said it in the report.
A former commando has previously claimed that the number of kills is a measure of special forces success.
ABC Investigations asked the defense for the number of kills.
"The Australian Defense Force does not use enemy casualties as a measure of performance, success or effectiveness, even during operations in Afghanistan," a defense spokesman said.
"The publicly released version of the Afghanistan investigation report briefly mentions 'catch and release and number of kills' as one of the factors whose presence may have contributed to an environment in which deviant behavior occurs [in the SAS] could take place and is not recognised."
People seen crouching for cover while a soldier fired from a helicopter
ABC Investigations obtained hours of footage of commando operations in Afghanistan in 2011 and 2012 that was never shown publicly.
A video is a highlights reel of the 2012 operation, edited and voiced by some of the commands themselves.
Several segments show a soldier firing his assault rifle from a moving helicopter at what appear to be unarmed civilians in residential areas.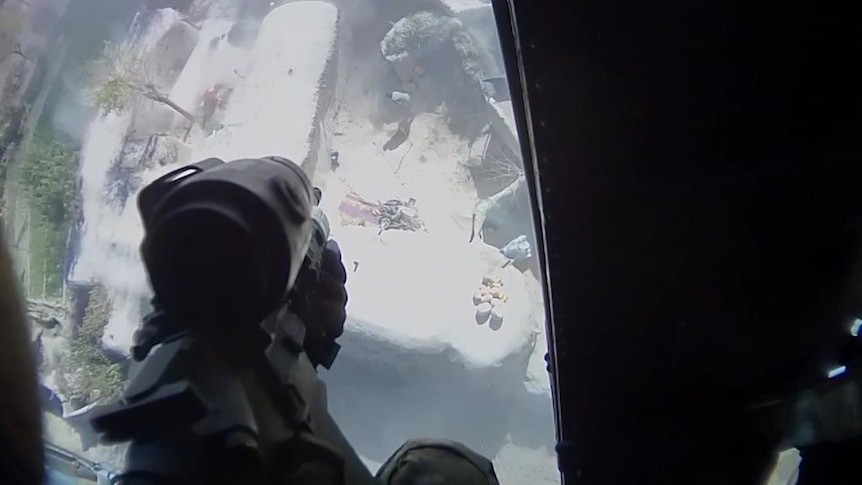 In one of the clips, an Afghan can be seen crouching and trying to find cover as the commando fires their weapon from the helicopter overhead.
Former military law officer Glenn Kolomeitz believes the incident should be investigated.
"It didn't look like that [the Afghan] hired this helicopter. He seemed to duck the dust and debris that was flying around him on this terrain."
"All ADF members are required to comply with the Relevant Rules of Engagement (ROE)," the defense said in a statement.
"The defense cannot discuss ROE for operational security reasons."
Commandos watch as Afghan soldier beats a man
Another video shows a commando patrol detaining some Afghans near a residential area.
The Australians have found a radio and, with the help of their Afghan partner force, want to know who owns it.
An Afghan soldier armed with a stick beats one of the arrested men who is crouching on the ground as Australian commandos look on.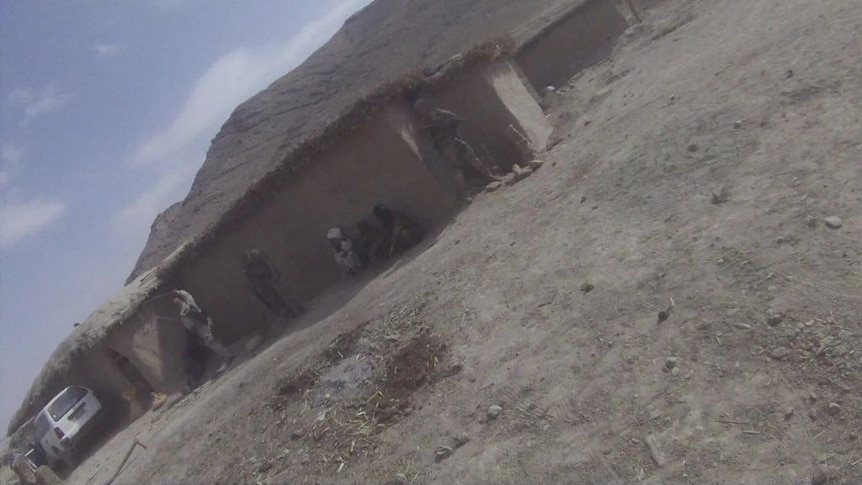 Invoking the name of Allah, the Afghan man swears that the radio does not belong to him and that he is just a farmer.
"That's the truth, look at my hands," he says.
The punches continue and the man can be heard whimpering with each punch.
The commandos continue to watch and say nothing.
"I've never seen that before," says Mr. Kolomeitz.
"The Afghan on the ground, even if he was an insurgent, is clearly out of the fight.
"And he's being mistreated now… and Australians have a duty to do something about it.
"If this guy wasn't an insurgent before, then I suspect he certainly would be later."
The Defense told ABC, "Australia's mission in Afghanistan was to assist the Afghan Government in containing the threat of international terrorism, while assisting in the development of a capable and sustainable Afghan Defense Force."
Watch this story tonight at 7:30 p.m. on ABC TV and iview.